"They are a fine, earnest, intelligent, and public spirited body of men, these rangers. Though small in number, their influence is large. Many and long are the duties heaped upon their shoulders. If a trail is to be blazed, it is 'send a ranger.' If an animal is floundering in the snow, a ranger is sent to pull him out; if a bear is in the hotel, if a fire threatens a forest, if someone is to be saved, it is 'send a ranger.' If a Dude wants to know the why, if a Sagebrusher is puzzled about a road, it is 'ask the ranger.' Everything the ranger knows, he will tell you, except about himself."

- Stephen T. Mather
First Director, National Park Service
---

In the tradition of Harry Yount, the National Park Service honors rangers who have the skills to perform a wide scope of ranger duties - protecting resources and serving visitors.
Congratulations to the 2011 recipient of the Harry Yount
National Park Ranger Award
: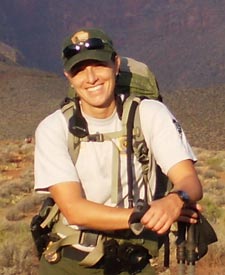 Lisa Hendy
Supervisory Park Ranger
Grand Canyon National Park
Arizona
On any day ranger Hendy could be anywhere: rappelling over the rim of the Grand Canyon to stabilize a patient, working with the Grand Canyon Special Response Team to do a building sweep, responding with the structural fire engine to a burning RV, providing advanced life support as a paramedic on a middle of the night cardiac call, be short-hauled in to a victim on the river, or patrolling the backcountry - checking permits, stirring toilets, and assessing archeological sites. Or just answering visitor questions.
"If a flood of incidents occurred while Lisa Hendy was at Phantom Ranch," say a fellow ranger, "no matter what it was, everything would be alright."
Many rangers tend to specialize in specific ranger skills depending on their abilities, but Hendy is one of that rare breed, these days, that simply excel at every aspect of rangering, says Grand Canyon's chief ranger. "Her level head and clear thinking are obvious and can be noted in the manner that she supervises and supports her staff."
Previous awardees:
2010: Scott Emmerich
2009: Peter Armington
2008: Gary Moses
2007: Gordon Wissinger
2006:Todd Swain
---
Harry Yount: Yellowstone's first and only gamekeeper

"After building a winter cabin in the park in 1880, he became one of the first white men known to spend time on a year-round basis in Yellowstone. Independent and resourceful, able to subsist on his own without close supervision, and having a familiarity and knowledge of the natural processes surrounding him, Harry Yount has become an archetypal model for the National Park Ranger."
---