2010 Wilderness Stewardship Award
Something will have gone out of us as a people if we ever let the remaining wilderness be destroyed …
- Wallace Stegner
The Wes Henry National Wilderness Stewardship Award recognizes outstanding contributions to wilderness stewardship by an individual or group. The National Park Service is honored to recognize the 2010 recipients: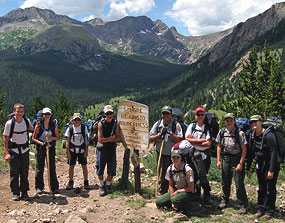 NPS
Group Award
Ambassadors for Wilderness Youth Program
Great Sand Dunes National Park and Preserve, Colorado
The Ambassadors for Wilderness youth program is an innovative outdoor education model designed to develop understanding of and advocates for wilderness. The program introduces wilderness values and resources to middle school and high school students from the San Luis Valley of Colorado, who are then encouraged to share newly acquired skills and knowledge with their local community.
The Ambassadors, a group of park rangers and community volunteers, help students learn navigation skills and bear-country camping basics, how to find and cook wild edibles, "read" clouds and stay warm and dry even in bad weather. Students learn Leave No Trace ethics, risk management, field science and explore leadership, teamwork, national park and wilderness values as well as personal and civic responsibility.
While students learn about wilderness, Ambassadors is also a success because it brings the park and the community together. Park staff from multiple disciplines work with local teachers, college students, the Student Conservation Association, Friends of the Dunes, and the Western National Parks Association to foster wilderness appreciation and stewardship.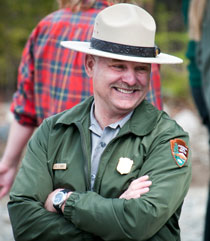 NPS
Individual Award
Joel L. Hard
Superintendent, Lake Clark National Park and Preserve, Alaska
Joel Hard is a champion of wilderness stewardship who has worked relentlessly to address complex wilderness issues in Alaska and to nurture wilderness awareness nationwide. His wealth of expertise, his honest and compassionate approach to leadership, and his passion for protecting wild places is well respected among his peers, employees, and partners.
Hard cultivated backcountry and wilderness stewardship planning at Lake Clark National Park and Preserve. Under his supervision, Lake Clark is to become the first park in Alaska, and one of the first parks in the United States to design and implement a wilderness monitoring strategy that allows park staff to consistently monitor trends in the qualities of wilderness.
Hard also enhanced wilderness interpretation for those who come to Lake Clark and for those who only dream about it. As superintendent, he oversaw a partnership with Alaska Geographic that produced a premier interpretive volume that celebrates wilderness values, scenery, wildlife, and rich human history of one of Alaska's most rugged parklands.
---
Wes Henry dedicated his life to the preservation of wild lands. The former National Park Service Wilderness Program Manager was committed to finding innovative ways to educate others about the value of these special places. The Wilderness Education and Interpretation Resource Notebook is a direct result of Henry's unwavering devotion to help connect people to their wilderness heritage.
---