| | | |
| --- | --- | --- |
| | The interpreter who creates a whole, pares away all the obfuscating minor detail and drives straight toward the perfection of his story will find that his hearers are walking along with him - are companions on the march. At some certain point it becomes their story as much as his. | |
| | - Freeman Tilden | |

The Freeman Tilden Award is an annual award recognizing outstanding contributions to the public through interpretation by a National Park Service employee. The award was created in 1982 to stimulate and reward creative work by National Park Service employees that results in positive impacts upon the visiting public.
The 2014 award recipients are: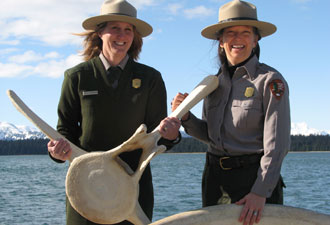 Kelly VandenBerg & Melissa Senac
Glacier Bay National Park & Preserve, Alaska
While shepherding two exhibits that feature whale skeletons, Senac and VandenBerg created a cohesive series of programs, exhibits, and written materials that encourage audiences worldwide to explore into the lives of humpback and orca whales.
Together they developed long-distance programming, web activities, and educational offerings. They designed web resources such as project blogs, photo galleries, teacher curriculum, and an award-wining screen presentation entitled, "Let's Go Whale Watching." They worked with the local community to display the whale exhibits in prominent locations and conduct ceremonies with cultural blessings by Tlingit elders.
This duo's collaborative efforts and creativity have helped provide opportunities for thousands to develop an appreciation of Glacier Bay as a critical home for generations of whales.

The National Park Service applauds the accomplishments achieved by the 2014 award nominees:

Nancy Caplan
Golden Gate National Recreation Area, California
Caplan transformed the park's BioBlitz into a multi-faceted learning experience that continues to affect classrooms and organizations throughout the Bay Area. As BioBlitz education director, she redefined inclusion, relevancy, and active engagement while creating multiple avenues for teacher and student exploration. She designed curriculum aligned to the state of California adopted Next Generation Science standards, initiated and strengthened educational partnerships with universities and school districts, and facilitated hands-on leaning at a Biodiversity Fair. Her efforts in reaching across generations and cultures helped spawn a new generation of enthusiasts and stewards of the natural environment.

Adam Gresek
Fort Washington Park, Maryland

Gresek wrote and directed a play, based on historical documentation, about the burning of Fort Washington. Under his creative direction, the fort's barracks became the courtroom, with magistrate and key historical figures present. The visiting audience acted as jury, while the interpreter provided commentary. Visitors could follow the trial virtually through the park's social media outlets. He recruited volunteers and worked with a living history group to create costumes and props.

Julie Johndreau
Badlands National Park, South Dakota
Johndreau developed a program that encourages local students to explore careers in park management. She developed curriculum that ensured student interns received academic credit for their work in the Tribal Youth Intern Program. Under her direction, students presented interpretive programs about their experiences growing up Lakota and their connections to park resources. Through these programs, visitors gained unique and meaningful insight into the park. The students participated in training and leadership opportunities designed to help them become, and remain, park stewards.

Beth A. Taylor
Yellowstone National Park, Wyoming, Montana, Idaho
Three projects exemplify Taylor's enthusiasm and energy for cultivating youth programs. She upgraded the distance learning studio and equipment, enabling 17,500 students to participate in online programs. She revitalized the Yellowstone to You Program, connecting Native Americans to their ancestral lands. She redesigned the park's junior ranger booklet, which introduces young people to higher level concepts and motivates them to attend ranger programs.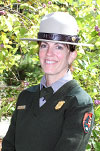 Marjorie Thomas
Chattahoochee River National Recreation Area, Georgia
Thomas created the park's Homestretch Internship Program, providing homeless students with job skills, income, and hope. She conceived of the idea, formed a partnership with the local youth housing authority, secured grant funding, coordinated donations, organized training and activities, and supervised interns. The program helped students form a connection to the park and its resources as evidenced by the formation of an environmental club at their school and their willingness to volunteer for park events.

Maryann Zujewski
Salem Maritime National Historic Site and Saugus Iron Works National Historic Site, Massachusetts
Zujewski developed the Park for Every Classroom — Teacher Development Program. This week-long program immersed teachers in the values and practices of place-based education and service learning. She collaborated with multiple park partners to develop and implement the workshop. She recruited teachers, partnered with a local university that enabled participants to earn graduate credits, established a comprehensive evaluation system, and taught a significant portion of the workshop.