Partners in Conservation Award
Few of us can hope to leave a poem or a work of art to posterity;
but working together or apart, we can yet save meadows, marshes,
strips of seashore, and stream valleys as a green legacy for the centuries.
---

On September 21, 2011, Secretary Ken Salazar presented Partners in Conservation Awards to 17 organizations working in collaboration with agencies throughout the Department of Interior.
Five National Park Service partnerships received honors. Collectively, they encompass a diverse array of projects and represent the breadth of commitment, outstanding accomplishment, and passion that individuals put forth every day, nationwide.
The 2011 award recipients are: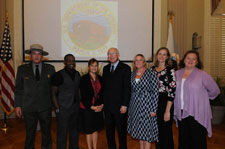 2nd Nature: Inspiring Creativity through the Natural Environment
National Park Service staff formed a partnership with the Latin American Youth Center's Art + Media House, a non-profit arts education group to develop the 2nd Nature program, connecting younger audiences to national parks through art, music and media. During this innovative, six-week program, 40 youth explored DC area national parks and learned about natural environments. The youth developed and exhibited media productions and performances that reflected their park experiences.
2nd Nature, National Parks and the Power of Art!! website and video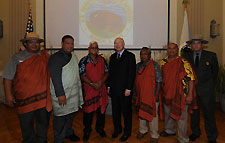 Na Papa Kanaka o Pu'ukohola Heiau and Pu'ukohola Heiau National Historic Site
After a major earthquake damaged Pu'ukohola Heiau National Historic Site in 2006, volunteers with Na Papa Kanaka o Pu'ukohola Heiau stepped in to restore two sacred temples - Pu'ukohola Heiau and Mailekini Heiau using traditional building methods and practices. More than 600 volunteers, mostly partner group members, turned out to help at 20 scheduled workshops over a four-year period. The partnership resulted in a cost savings of $3 million on the project and provided the opportunity to teach the skill of Hawaiian dry stone setting to the next generation.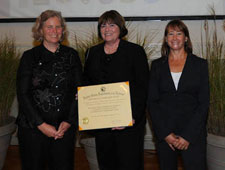 Scanning the Conservation Horizon: A Guide to Climate Change Vulnerability
The National Wildlife Federation and U.S. Fish and Wildlife Service convened an expert working group within the conservation community to develop "Scanning the Conservation Horizon: A Guide to Climate Change Vulnerability Assessment." This guidebook is enabling Department of Interior bureaus and Landscape Conservation Cooperatives to design and conduct resource vulnerability assessments that identify resources at risk.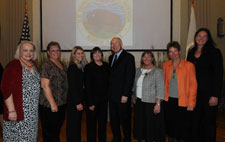 Southern Arizona Buffelgrass Coordination Center
Through an integrated effort by federal, local government, academic and private institutions, Southern Arizona Buffelgrass Coordination Center is protecting ecosystems and communities from invasive buffelgrass, synchronizing regional efforts in buffelgrass control, and engaging and educating legislators and the public.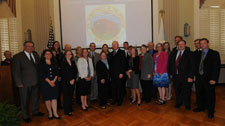 DOI Oceans, Coasts and Great Lakes Activities Team
This collaborative effort between the Offices of the Secretary and Assistant Secretary for Insular Affairs, Fish and Wildlife Service, Geological Survey, Bureau of Ocean Energy Management, Regulation and Enforcement, National Park Service, Bureau of Indian Affairs, and Bureau of Land Management, partners with 27 federal agencies, 9 regional planning areas, Tribal, State and local governments to develop and implement the nation's first National Ocean Policy.
The National Park Service also celebrates the following nominees for their outstanding work and accomplishments:
Thomas F. Roberts, III
Mr. Roberts, founder and president of the Fire Island Lighthouse Preservation Society, raised close to $5 million to preserve and promote the lighthouse and its historic resources. He has been the driving force initiating the return of the 1858 Fresnel lens and construction of its storage and display facility.
Wildlife Conservation Society
Through international, federal, state, tribal, and private lands partnerships, the Wildlife Conservation Society protects biodiversity and promotes natural resource-based recreational opportunities through research efforts involving bison conservation, wolverine restoration, and wildlife issues associated with climate change.
C&O Canal Quarters Interpretive Program
This innovative program provides a unique opportunity for visitors to stay overnight in one of three historic lockhouses. Through a partnership with the C&O Canal Trust, each lockhouse was restored to reflect and interpret specific periods in Canal history, including canal construction (1830s), canal communities (early 20th century), and the creation of the park (1950s).
Pacific Historic Parks
Pacific Historic Parks completed a $56 million capital fundraising campaign to pay for design and construction of the Pearl Harbor Visitor Center at World War II Valor in the Pacific National Monument. The visitor center contains a state of the art theater, and museum galleries with award-winning exhibits.
Franklin Township
Franklin Township has worked tirelessly to preserve the Quincy Smelting Works. The township purchased the historic property, initiated stabilization efforts, and, in continued partnership with several government agencies and organizations, is working to complete site restoration.
Olympus America Inc.
In an ongoing commitment to expand natural resource and community engagement efforts, Olympus America upgraded air-quality web cameras in seventeen national parks. The organization's outreach to younger audiences has led to increased photo contest participation and virtual web camera visitation.
The Friends of Dyke Marsh
The Friends of Dyke Marsh made outstanding contributions in preserving and enhancing the recreational, economic, and ecological value of Dyke Marsh Wildlife Preserve. The friends group supported scientific investigations, combated invasive species, restored wetland ecosystems, produced an educational film titled "On the Edge," published a newsletter, and led weekly bird walks.
Tennessee Citizens for Wilderness Planning
Tennessee Citizens for Wilderness Planning has led ongoing efforts to purchase land within Obed Wild and Scenic River and foster large-scale landscape conservation. Their efforts have led to the protection of 127,000 acres through a combination of public land acquisition, conservation easements, public and private partnerships, and educational outreach.
Jennifer H. Nixon
Jennifer Nixon, of Bi-State Development Agency, manages the agency's cooperative agreement and partnership program with Jefferson National Expansion Memorial. Under her leadership Bi-State has become an outstanding partner, providing financial, marketing and staffing support, and identifying and pursuing unique interpretive opportunities to enhance visitor experience.
Urban Wilderness Canoe Adventures
Wilderness Inquiry, the National Park Service, and the Mississippi River Fund developed an urban wilderness canoe program, complete with guided day trips, overnight camping, and environmental education programs within Mississippi National River and Recreation Area. The partnership's ultimate goal is to provide more than 10,000 youth and their families a river experience and encourage outdoor recreation and environmental stewardship.
Congratulations to all the nominees and finalists!!