2011 Natural Resource Awards
 

To sustain an environment suitable for man, we must fight on a thousand battlegrounds. Despite all of our wealth and knowledge, we cannot create a redwood forest, a wild river, or a gleaming seashore. But we can keep these we have.

- Lyndon B. Johnson

 
Natural Resource Awards honor accomplishments in six categories: Excellence in Natural Resource Stewardship, Superintendent of the Year for Natural Resource Stewardship, Natural Resource Management, Professional Excellence in Natural Resources, Excellence in Natural Resource Research, and the Trish Patterson Student Conservation Association Award for Natural Resource Management in a Small Park.
These awards recognize employees who go above and beyond in performance of their duties. This year's winners were nominated by employees from across the National Park Service, by the people who watched their day-to-day efforts to preserve landscapes for our enjoyment today and in the future. The people who made these nominations singled out remarkable achievers for this special recognition.
Award recipients for 2011 are: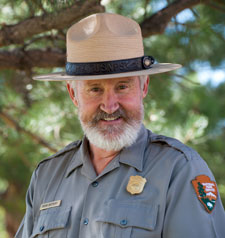 Excellence in Natural Resource Stewardship through Maintenance
Douglas Buttery, chief of facility management
Canyonlands and Arches national parks, Utah
Douglas Buttery's strong leadership and dedication to resource stewardship fostered development of numerous collaborations between the facility maintenance division and the parks' natural resource program. Through his leadership and facilitation, interdivisional efforts resulted in the formulation and successful funding for major projects designed to improve natural resource conditions and visitor experience opportunities through the control of exotic plant populations in Canyonlands and Arches national parks.
Buttery also makes significant contributions to natural resource stewardship as a member of the National Park Service Intermountain Region Wilderness Executive Committee, through his service as park wilderness coordinator, and by initiating the development and implementation of Canyonlands' Environmental Management System.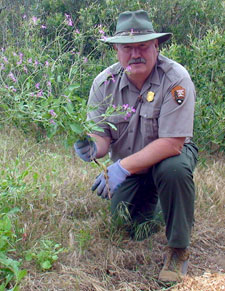 Superintendent of the Year for Natural Resource Stewardship
Russell Galipeau, superintendent
Channel Islands National Park, California
Superintendent Galipeau manages Channel Islands National Park with vision and a long-term commitment to natural resources stewardship. His skill in ecology, law and policy, and public relations expedited dramatic improvement of ecological conditions on Santa Rosa Island in the past decade.
During his tenure, the park has improved highly degraded natural vegetation that was overgrazed. Decline of a native fox species has been reversed on the 54,000-acre island. Golden eagles, not native to the island, have been trapped and relocated. Large populations of feral sheep and feral pigs have been removed, and exotic deer and elk are being removed.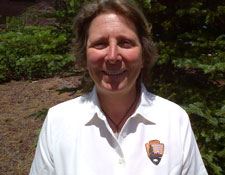 Natural Resource Management
Jan Balsom
, deputy chief for science and resource management
Grand Canyon National Park, Arizona
Jan Balsom took on the challenges of three high-profile issues at Grand Canyon National Park that had far-reaching and long-term resource management implications.
Balsom supported the development of a 10-year protocol for high-flow releases at Glen Canyon Dam, non-native fish removal from the Colorado River within an area sacred to traditionally associated Indian tribes, and the withdrawal of over a million acres of public land surrounding the park from uranium mining.
The high-flow protocol is an essential management tool for rebuilding beaches and habitat in the Grand Canyon and helps protect cultural resources.
Through interagency and government-to-government cooperation, Balsom helped determine the most appropriate measures for removing non-native fish from the Colorado River in order to protect the endangered humpback chub.
Finally, because of Balsom's efforts, Secretary of the Interior Ken Salazar was able to sign the record of decision to withdraw more than one million acres of public land surrounding Grand Canyon from mineral entry for uranium production.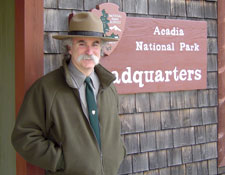 Natural Resource Management
David Manski, chief of resource management
Acadia National Park, Maine
David Manski has had a long and distinguished National Park Service career in natural resource preservation. In 2011, David took the lead for integrating the park's natural and cultural conservation efforts and coordinating campus operations at the Schoodic Education and Research Center. This will have a lasting impact on the continued management of Acadia National Park.
Manski coordinated the largest-to-date Schoodic BioBlitz, which is being incorporated into a multi-year peer-reviewed publication. Additionally, through his management, the park has nearly eliminated many wetland invasive plants, supported nationally recognized monitoring and research on mercury pollution, replaced culverts to restore key fish passageways, and implemented science-based techniques to manage visitor impacts to montane ecosystems.
Manski's efforts have helped employ and engage young scientists in park programs which have included a focus on sea level rise and implications for significant seabird-nesting islands. Manski has also served as a global natural resource ambassador through a Middle East fellowship, provided a host park for Middle Eastern visitors, participated in a recent mission to China, and assisted with development of protected area management in Oman.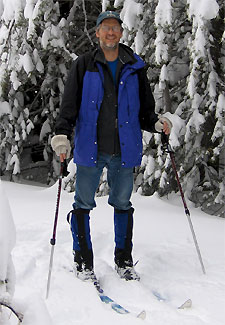 Excellence in Natural Resource Research
Nathan Stephenson, Ph.D.,research ecologist
Sequoia and Kings Canyon National Parks, California
Dr. Nathan L. "Nate" Stephenson has spent most of his life cultivating a broad and deep understanding of Sierra Nevada ecosystems. A research ecologist at the Sequoia and Kings Canyon Field Station of the USGS Western Ecological Research Center since 1997, he has developed the capacity to systematically measure long-term change, recognize the implications of observed change within a holistic context, and productively evaluate traditional assumptions about NPS natural resource management goals.
Stephenson's research focus since 1995 has revolved around the USGS Western Mountain Initiative, a global change research project that he and his colleagues established, centered on national parks in the mountainous western U.S.
Stephenson is an internationally recognized expert of forest ecology because of his commitment to the Sierra Nevada and his original research in forested ecosystems and their maintenance processes.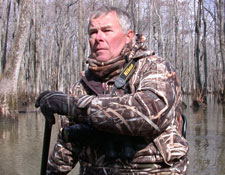 Professional Excellence in Natural Resources
Oron "Sonny" Bass, supervisory wildlife biologist
Everglades National Park, Florida
Sonny Bass is recognized for his improvement of the wildlife program at Everglades National Park and, specifically, his role in the design and management of the monitoring and research program for the endangered Cape Sable Seaside Sparrow (Ammodramus maritimus mirabilis).
The Cape Sable seaside sparrow monitoring program provides Everglades National Park and the U.S. Fish and Wildlife Service with critical data needed to develop and implement landscape-scale techniques for water and fire management in Everglades restoration projects.
The continued existence of all six of the sparrow subpopulations in the park is due in great part to the scientific data acquired by Bass' program and the use of that data to support protection of sparrow nesting habitat.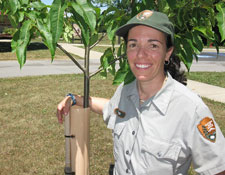 Trish Patterson Student Conservation Association Award
for Natural Resource Management in Small Parks
Dafna Reiner, biologist
Hopewell Culture National Historical Park, Ohio
Dafna Reiner developed a sustainable, long-term vegetation management program at Hopewell Culture that will stabilize earthen ceremonial sites and increase visitor understanding of these resources. By establishing partnerships with a local state prison and Pheasants Unlimited, she reduced project labor and supply costs.
Reiner also worked with the Student Conservation Association whose interns removed exotic plants and restored native vegetation. She produced with the University of Nebraska Lincoln a report on best management practices and effects of native grasses on buried archeological resources.
A vegetation management practice covering mowing regimes and appropriate seed mixes was developed to encourage state "species of concern" to nest in the park. This practice has high transferability and is being considered for use in other parks.
Reiner also worked on a prescribed and wildland fire module for Jewel Cave National Monument in South Dakota, completed two tours for oil spill response in the Gulf of Mexico, and worked to create partnerships with bird and trail management organizations.