"When a VIP agrees to share his talents, skills and interests with the National Park Service, he is paying us one of the highest compliments possible by offering a most valued possession - his time."

George B. Hartzog, Jr.
Director, National Park Service,
1964-1972

In 1970, the Volunteers-In-Parks (VIP) program started with a few hundred volunteers. Today, more than 246,000 VIPs donate their time, skills, and talents to the National Park Service every year. The George and Helen Hartzog Awards for Outstanding Volunteer Service recognize the exemplary contributions of these very important people. Interested in volunteering? Find out how to get involved!

Meet the recipients of the 2014 Hartzog Awards: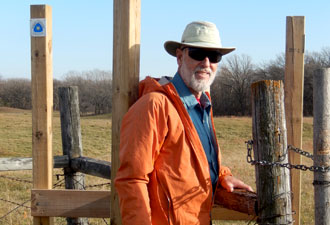 Individual Volunteer Award
Tom Moberg
North Country National Scenic Trail, New York to North Dakota

Tom Moberg, with his dedication and infectious enthusiasm, has galvanized tremendous community support for the 4,600-mile North Country Trail. As board of directors president of the
North Country Trail Association
, the trail's partnership group, he collaborated on national initiatives to improve trail conditions in seven states. Moberg's many contributions include:
dedicating up to 55 hours a week to maintain 12 of the 40 miles of trail adopted by his local chapter — personally turning sod, cutting grass, and building fence, even in the occasional extreme heat or frigid cold of the North Dakota prairie;

developing creative solutions to connect sections of trail, obtaining easements and agreements with local landowners, and building bridges over obstacles;
encouraging community participation in long-distance hiking with programs like "Hike Every Mile," in which 75 participants logged more than 350 miles;

building partnerships with universities, youth groups, and interest groups;and

teaching the art of trail maintenance, grant writing, and proactive planning to sustain the trail for future generations.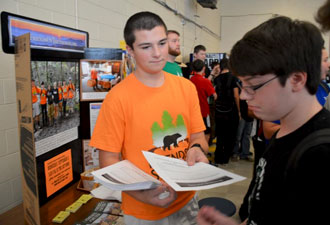 Youth Volunteer Award
Sterling Fisher
Great Smoky Mountains National Park, Tennessee, North Carolina

By age 16, Fisher had dedicated 10 years and 300 hours of service to Great Smoky Mountains. Not satisfied, he wanted to do more. He saw a need to connect his fellow high school classmates to the national parks and took the initiative.
Fisher organized a junior chapter of Friends of the Smokies to provide opportunities for students at his high school to support the national park through fundraising and volunteer service. As the chapter's official liaison he successfully coordinated activities with school officials, park rangers, and Friends of the Smokies staff. The junior chapter's 20 members have completed more than 400 hours of volunteer service and raised more than $600 for Great Smoky Mountains National Park.
Fisher has set a high bar for the next generation of park stewards. His leadership skills grow with continued involvement: organizing monthly meetings, creating a newsletter and group e-mail list, and acting as a liaison with other potential partners, including the Tremont Institute, Great Smoky Mountains Association, and Appalachian Bear Rescue Center.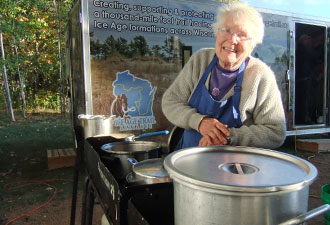 Enduring Service Award
Thelma Johnson
Ice Age National Scenic Trail, Wisconsin

Drawing large crowds to fairly remote areas in Wisconsin for back-breaking trail work isn't easy, yet the Mobile Skills Crew and 12,000 volunteers continue to make the Ice Age National Scenic Trail successful. The food may have something to do with that.
For the past 12 years, Thelma Johnson, now 80 years old and still going strong, has fed an army of volunteers along the 1,200-mile trail. She has donated more than 2,000 hours to serve more than 30,000 meals to hungry volunteers. She commands a crew of cooks to serve breakfast, lunch, and dinner for projects that run five days at a time.
Camping alongside the trail crews, she's the first one up, setting up her mobile kitchen by flashlight at 4:30 a.m. She's often the last to stop work in the evening, scouring pots as crews rest by the campfire. Finding food for the masses in remote areas may be difficult, but Johnson has kept it flexible and frugal, clipping coupons to keep the budget down.
Johnson's selflessness and dedication have been noted by fellow volunteers. She is known to have dumped personal contents of her suitcase to fit more food for workers and to have sat in her car to keep her fingers warm in the frigid cold while peeling mountains of onions to keep her fingers warm.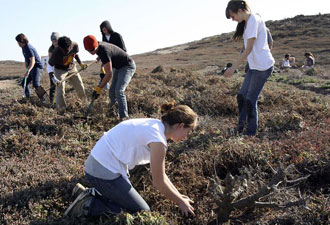 Youth Volunteer Group Award
Buena High School Environmental Club
Channel Islands National Park, California
For fifteen years, hundreds of high school students and a few dedicated teachers have provided thousands of hours of service to protect native plants at Channel Islands. In 2014, a team of 103 students and two teachers spent 1128 hours restoring native plant communities on Anacapa Island.
Teenagers gave up precious weekend hours to travel to the island by boat early in the morning and spend all day bending, stooping, standing, lifting, carrying, and hauling non-native plants. Several students committed all four years of their high school experience to work side by side with their teachers to restore native ecosystems within the national park. Their commitment has helped protect the 265 native plant species; 20 of which are not found anywhere else in the world.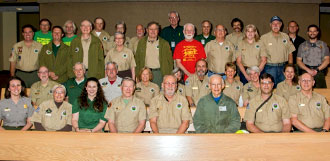 Volunteer Group Award
Kennesaw Mountain Trail Club
Kennesaw Mountain National Battlefield Park, Georgia
The
Kennesaw Mountain Trail Club
maintains 22 miles of trail within the 2,965-acre Civil War battleground park. Club members have invested 28,000 hours of service and have recruited another 50 groups to complete an additional 6,000 hours. For the 150th anniversary commemoration of the Battle of Kennesaw Mountain, this group of dedicated volunteers:
spent two years planning and constructing the 1.5-mile long Assault Trail, which opened a new section of park to reveal the Union earthworks for the first time;
raised more than $100,000, despite having no fundraising experience, making it possible for prominent historians, authors, and performers to participate in commemorative events;

recruited, trained, and directed 500 volunteers who contributed 3,000 hours to make the visitor experience more enjoyable;

created the "Hunt for History" scavenger hunt a movie premier to generate public excitement for the event.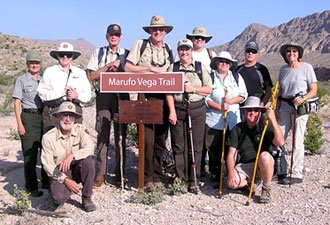 Park Volunteer Program Award
Big Bend National Park Volunteer Program
Big Bend National Park, Texas
Big Bend National Park is not next door to any large metropolitan area, but the park still manages to recruit volunteers of all ages who contribute an average 45,000 service hours a year. The secret to success: volunteers become part of the park community
At Big Bend, every office recruits volunteers and participates in a two-week training session. Volunteers staff four visitor centers and three campgrounds. They patrol trails and backcountry campsites, and participate in maintenance and resources projects. Volunteers have created videos for park websites and social media, designed a web-based backcountry permit system, and conducted original historical research of families who lived in the area before it became a national park.
Big Bend's volunteers have built their own community by creating the monthly newsletter, VIP2VIP, where they share stories of adventure, and a Facebook group to stay connected. They organize monthly hikes and potlucks for comradery and to build knowledge about the national park and its surrounding area.
Previous awardees:
2013 Awards
2012 Awards
2011 Awards
2010 Awards
After his retirement, George Hartzog and his wife Helen remembered the VIP program with a generous donation to the National Park Foundation. This fund has been used to support awards that honor the efforts of exceptional volunteers, groups, and park VIP programs.