Harry Yount Award
"They are a fine, earnest, intelligent, and public spirited body of men, these rangers. Though small in number, their influence is large. Many and long are the duties heaped upon their shoulders. If a trail is to be blazed, it is 'send a ranger.' If an animal is floundering in the snow, a ranger is sent to pull him out; if a bear is in the hotel, if a fire threatens a forest, if someone is to be saved, it is 'send a ranger.' If a Dude wants to know the why, if a Sagebrusher is puzzled about a road, it is 'ask the ranger.' Everything the ranger knows, he will tell you, except about himself."

- Stephen T. Mather
First Director, National Park Service
In the tradition of Harry Yount, the National Park Service honors rangers who have the skills to perform a wide scope of ranger duties - protecting resources and serving visitors.
The 2013 award recipient is: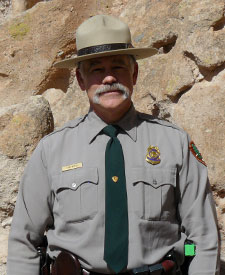 Tom Betts, Chief Ranger
Bandelier National Monument, New Mexico

Being a park ranger comes naturally for Tom Betts – you could even say it's in his blood. As the son of a park ranger, he literally and figuratively grew up honing his outdoor skills in national parks.
Currently the chief ranger at Bandelier National Monument, Betts has worked at eight additional national parks during his 32-year National Park Service career: Crater Lake National Park, Lake Clark National Park and Preserve, Hawaii Volcanoes National Park, Grand Teton National Park, Grand Canyon National Park, Rocky Mountain National Park, Yellowstone National Park, and Wrangell-St. Elias National Park and Preserve.
Service at such diverse parks has allowed Betts to take on a variety of duties and circumstances. He's protected park visitors and resources during volcano eruptions, wild land fires, earthquakes, floods, snowstorms, wildlife encounters, and search and rescue missions. He has conducted patrols via foot, truck, boat, helicopter, raft, ATV, skis, snowmobile, horseback, and airplane.
At Crater Lake, he helped to extricate a significantly injured baby trapped in an overturned vehicle. He provided her with constant care during transport to the hospital and resuscitated her when she stopped breathing. During another rescue, he personally carried a hiker with a skull fracture more than a mile up a steep Grand Canyon trail.
"Early in my career I was told 'Remember who you are and what you stand for," said Betts. "I have always tried to emulate the high standards and uncompromised ethics exhibited by my father, my father-in-law, and many other fantastic park rangers I've had the privilege to work with and know. I have been very fortunate to have had a career doing the things I love in some of the most amazing places on earth."

---
Harry Yount: Yellowstone's first and only gamekeeper

"After building a winter cabin in the park in 1880, he became one of the first white men known to spend time on a year-round basis in Yellowstone. Independent and resourceful, able to subsist on his own without close supervision, and having a familiarity and knowledge of the natural processes surrounding him, Harry Yount has become an archetypal model for the National Park Ranger."
---