Poison Ivy and Your Safety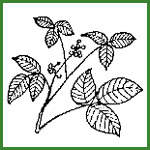 Poison Ivy
Leaves of three, let them be. Poison ivy (Rhus radicans) grows plentifully along roadsides, trails, the river, and the edges of fields and parking lots, as a vine or a low shrub. The leaves are red in early spring, shiny green in summer, and an attractive red or orange in the fall. Each leaf consists of three leaflets.
Most people are sensitive in varying degrees to the sap of this plant, which makes skin itch, blister, and swell.
Prevention
Avoid contact with all parts of the plant.
If exposed, wash the affected skin with soap and water as soon as possible. It takes several minutes for the sap to penetrate the skin.
Remember: Leaves of three, let them be. Avoid plants with three leaflets.


Did You Know?

... chief causes of water fatalities on the Delaware River are: (1) swimming without a lifejacket (PFD); (2) trying to swim across the river; and (3) swimming after drinking alcohol. Wear a pfd on and in the river. Swim at lifeguarded beaches. NEVER TRY TO SWIM ACROSS THE RIVER! More...