Hornbecks Creek Trail Partial Closure

The trail is closed between the first and second waterfall; a portion of the trail has sloughed off, causing a hazardous condition. The first waterfall is accessible from the 209 trailhead and the second waterfall is accessible from Emory Road.
River Road Closure

Starting on Monday, September 8, River Road will be closed from Park Headquarters to Smithfield Beach while contractors complete pavement repairs. Access to Smithfield Beach will still be possible. More »
Dingmans Falls Area and Road Closed

Dingmans Falls Visitor Center, the boardwalk trail to the falls, and the access road will be closed through September as repairs to the road are made. We anticipate the area reopening in October.
Poison Ivy and Your Safety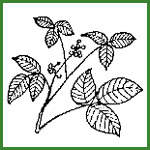 Poison Ivy
Leaves of three, let them be. Poison ivy (Rhus radicans) grows plentifully along roadsides, trails, the river, and the edges of fields and parking lots, as a vine or a low shrub. The leaves are red in early spring, shiny green in summer, and an attractive red or orange in the fall. Each leaf consists of three leaflets.
Most people are sensitive in varying degrees to the sap of this plant, which makes skin itch, blister, and swell.
Prevention
Avoid contact with all parts of the plant.
If exposed, wash the affected skin with soap and water as soon as possible. It takes several minutes for the sap to penetrate the skin.
Remember: Leaves of three, let them be. Avoid plants with three leaflets.


Did You Know?

... that the Appalachian Trail (AT) runs more than 25 miles through Delaware Water Gap National Recreation Area. The AT crosses the Delaware River and the Water Gap on a walkway on the Interstate-80 bridge. With bus service to New York and Philadelphia nearby, a hike on the AT is only a ride and a backpack away! More...