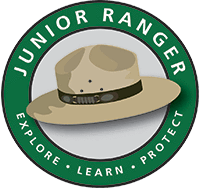 "Explore, Learn, and Protect!" The Junior Ranger motto is recited by children around the country; each taking an oath of their own to protect parks, continue to learn about parks, and share their own ranger story with friends and family. Many national parks offer young visitors the opportunity to join the National Park Service "family" as Junior Rangers. Interested youth complete a series of activities during a park visit, share their answers with a park ranger, and receive an official Junior Ranger patch and Junior Ranger certificate. Junior Rangers are typically between the ages of 5 to 13, although people of all ages can participate.
Visit the park and become a Junior Ranger and/ or a Junior Ranger River Safety.
Delaware Water Gap Programs
Junior Ranger Activity Book,
335 KB pdf
Activity book that encourages park exploration by introducing the plants, animals, and fossils of the park in addition to mapmaking, stargazing, and geology exercises.


Junior Ranger River Safety Activity Book, 3.3 MB pdf
Activity book that encourages water safety by identifying proper safety gear and supplies, potential water hazards, and the planning that is necessary for safe river trips.
Web Ranger Program
The Web Ranger program is an online National Park Service activity. If you love our National Parks, Monuments and Historic Sites, this site is for you. If you are new to our National Parks, we hope this site helps you experience how wonderful they can be.