NEW Overnight parking system

Before parking a vehicle overnight in any Canal Parking area, visitors must register their vehicle through the new online registration system. Print your reciept and place on your dashboard. If unable to print, please visit the nearest visitor center. More »
Water Pump Handles Temporarily Removed

Water pump handles at Bald Eagle Island, Huckleberry Hill, and Jordan Junction Hiker Biker Campsites have been removed due to bad water samples. Handles will be reinstalled when good water samples are received.
Boat Tours at Great Falls

Due to low water levels in the Great Falls area, call the Great Falls Tavern Visitor Center (301-767-3714) in advance of your trip to confirm the mule-drawn boat tour schedule.
Parking Lot Closure

CSX is now beginning a phase of their bridge project that requires the closure of the Lock 74 parking lot for approximatly 18 months. Access to visitor parking near Lock 75 is now re-opened with a gravel parking lot at the site.
Marsden Tract Campsites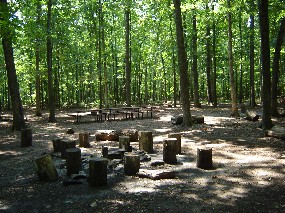 NPS Photo
The Marsden Tract Group Campground is located at Mile 11.5 on the C&O Canal Towpath, between the Carderock Recreation Area and Angler's Inn. The group campsites are nestled in the woods between the Canal and the Potomac River and they are a short distance from many recreational opportunities. Fishing, rock climbing, boating and hiking are but a few possibilities while staying at Marsden Tract. (Note: A Maryland Fishing License is required in order to fish in the Canal, if you are over 16. Either a Maryland or Virginia Fishing License is required in order to fish in the river.)
The campground has three group campsites: group campsite #1 will accommodate up to 15 campers; group campsites #2 and #3 will accommodate up to 30 campers at each site. Each campsite has a picnic table and a fire ring. Portable toilets are located between group campsite #1 and group campsite #2. Potable water is a short walk up the towpath and across the footbridge (may not be available during cold winter months). NO VEHICULAR traffic is allowed on the towpath and access to the campsites is by FOOT ONLY.
Marsden Tract Group Campground is reserved for organized scout and/or civic groups only. Use of the campsites is by PERMIT ONLY and reservations will be accepted by telephone beginning on the 1st working day of the new calendar year, for the current year only. To reserve a campsite call the C&O Canal NHP Permit Office at (301) 767-3731.
The cost for the permit is $20.00 per site per night and payment is non-refundable. Payment MUST be received at the time the reservation is made. Visa, MasterCard, American Express, and Discover cards are accepted. Payments made in cash or by check must be paid in person at the C&O Canal NHP Permit Office - 11710 MacArthur Blvd., Potomac, MD 20854. Holding dates without payment is not permitted. NO RAIN DATES are given.
Here is a partial listing of general rules and regulations for use of the Marsden Tract Group Campground. A more complete listing of park rules and regulations is available.
Overnight parking is permitted ONLY at the Carderock Recreation Area, the parking lot across from Angler's Inn, or at Great Falls (entrance fee charged).
Fires are permitted ONLY in established fire rings. Please ensure that your fire is extinguished completely each time you leave the area. The cutting or defacing of any live growth is strictly prohibited. ONLY fallen dead timber may be used for on-site firewood. Park Rangers reserve the right to ban ALL fires during periods of drought.
Groups may arrive at the designated site starting at 12:00 P.M. (Noon)
Groups MUST be out of the designated site by 10:00 A.M. on the day of departure.

Please observe quiet hours between 10:00 P.M. and 6:00 A.M.

Alcoholic beverages are PROHIBITED.
The park is a "Trash Free Park" and trashcans are not provided. Trash must be picked up and the area left in a clean condition before the group departs.

Swimming and/or wading in the Potomac River or the C&O Canal is extremely dangerous and prohibited by law.
For further information, directions or reservations please call the C&O Canal NHP Permit Office at (301) 767-3731. Calls are usually returned within 48 hours.
Did You Know?
Canal historians estimate approximately 35,000 laborers helped dig the canal as well as build aqueducts, culverts, locks, lock houses, etc. It took 22 years to build the canal from Georgetown, DC to Cumberland, MD. Much of the workforce were immigrants from Ireland and western Europe. More...